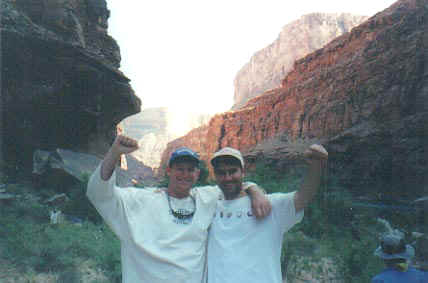 We've Arrived !!!
Click on picture's below to enlarge
The journey started with the constant dialing of the telephone back in March of 2000. 8 Guys were in– ready and excited for the trip of their lives – the holy grail of rafting – the great Colorado River flowing through millions of years of stone built upon older layers of more stone….these men were heading to the grandest of canyons for 6 of the most amazing days one could imagine. The anticipation of raging rapids, towering cliffs of red rock, starlight nights so bright you needed sunglasses just to sleep…this is what kept these men hungry and eager to take that trek across the great land of America… this is what motivated these men to train endlessly for the 7+ mile hike out of the canyon… this is what allowed us to leave behind our loved ones, our homes, our work, our computers and our cell phones… sixteen months of dedication to experience what very few have the courage, and even fewer have the chance due to the strict rules of this natural and preserved reservation…Sixteen months of dedication to arrive…at the Grand Canyon.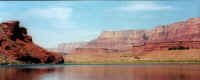 One turkey backed out… Rumors were spread that he couldn't handle it – just wasn't up to the task, a boy amongst men. Others said a woman kept him away…I'd like to think an entire harem of women would be responsible…I guess we'll never know. (Something about a wedding…and a great place to meet chicks…)
7 it was – Carl, Phil, MarCCCCCC, Lee, Michael, Ed, the elder statesman ( who did happen to make the hike out 1 hour faster than some – 2 hours faster than most) and Jeff (author de jour).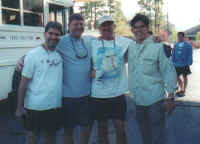 Mike, Jeff, Ed and Carl
The plan was set – we would meet in Phoenix on June 17th, 2001 and drive together to Flagstaff, Az where we would hook up with the rest of the group of 20, and our guides, for our faithful journey through the Grand Canyon, (no – this isn't an episode of Gilligan's Island …but – had Ginger and Mary Ann been there…I'm sure they would have been welcome.)
Prior to arrival there were a lot of things that needed to be decided – most important was what to pack. Ed was going to pack one pair of underwear and a book. We had to talk him into things like a hat, sunscreen, and an occasional change of cloths. Not to mention soap and shampoo. (after this picture – I think we should have kept the soap)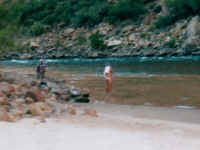 The biggest concern in packing was what you could carry on your back for the 7.2 mile hike up the Bright Angel trail that leads out of the canyon on Day 6. Decision: 2 shirts, 2 shorts, and lots of Deodorant!!!!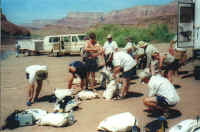 Final Packing and lotion
Casino & Baseball
Half the group met at the airport and jumped into the rental car for the 2 hour journey to Flagstaff. (The other half arrived the night before and watched the Diamondbacks play in their new stadium!!) Along the way many land locked adventures awaited… most notable was the side trip to the famed Desert Casino…once off the exit ramp we came to the world famous "Arizona Beef Jerky" roadside stand – where one of America's hippy's (dude – it's been over for 30 years…let it GO – get a haircut) patiently sat in the blistering sun and sold 20 different flavors of beef and buffalo jerky. I'm convinced that he started selling Filet Mignon – but – has been out there so long it all dried up. We bought a couple bags and headed across the street to spend our last few dollars for the week. We soon realized that the only games they had were slots – so we headed to the video game room, had a chocolate shake and continued our journey to Flagstaff to meet our fellow rafters !!!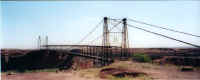 It's a Group Thing
We checked into the Flagstaff flea bath hotel (okay – it wasn't that bad)– also known as the Radisson – for the last night of air-conditioned/mattress sleeping we would have for a week. We got a quick bite to eat at the local college hang out – saying good bye to all the normal aspects of our daily grind so that we could say hello to the awesome adventure of the wilderness.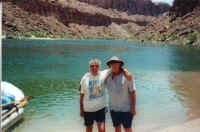 The Rudd Brothers
The big group met at 7:30 for introductions and a kickoff meeting with the Azra people. They proceeded to sell us into buying all sorts of their goodies – Carabineers, water jugs, hats, and my personal favorite – the very expensive undershirt that would "keep you warm – even if you got wet". I wore it once - didn't help. (Note to future rafters – loose long sleeve T's and light weight pants – that's the ticket…and throw them away before you board the plane!!)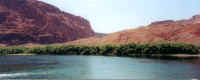 We received our mugs, our Grand Canyon guidebook and our two waterproof bags for the next day. After that we took our last shower, and walked to the local store to stock up on BEER and other libations. Ahh – the week was looking good.
An early morning meeting 6:30 I think… - which wasn't too bad for those of us from the East coast. Things packed – pictures taken – (beards shaved one last time)… on the bus – find a seat – and off we gooooooooooo!
"Yeeeeeeeeeeeeeehhhhhhhaaaaaaaaa"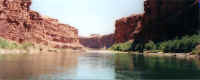 Enjoy the ride!!
Click to go to Day 1 Click to go to the Top